THE ADOPTION OF E-GOVERNMENT IN THE TAX ADMINISTRATION: A SCOPING REVIEW
Nugroho Dian Respati

Direktorat Jenderal Pajak
Keywords:
e-government, tax administration, scoping review
Abstract
With the spread of information, technology and the Internet, we have found that the tax administration is moving towards online or digital services. The study aims to identify what has worked in the adoption of e-government in tax services. The key aspects include the design of e-government in tax procedures, acceptance and usability factors, impacts, and challenges in the implementation. A scoping review was designed to map the existing evidence on the application of information and technology system in delivering tax services, or known as e-government. Key search terms were developed and mapped. Selected databases and key journals were used in this scoping review. Using the criteria that were determined, we identified 79 articles that most closely demonstrated the purpose of this study. However, we only reported the detailed of the findings from ten included articles. The identified studies reflected the majority of articles investigated the reasons behind the success or failure of e-government projects in the tax administration. This review concludes that in an environment in which the government faced many challenges with the limited resources, e-government adoption in tax administration offers the potential benefit to strengthen the government finances.
A greater understanding of the purpose, adoption & acceptance factors, the impact and challenges in the application of e-government projects in tax services is a priority for research, policy and practice.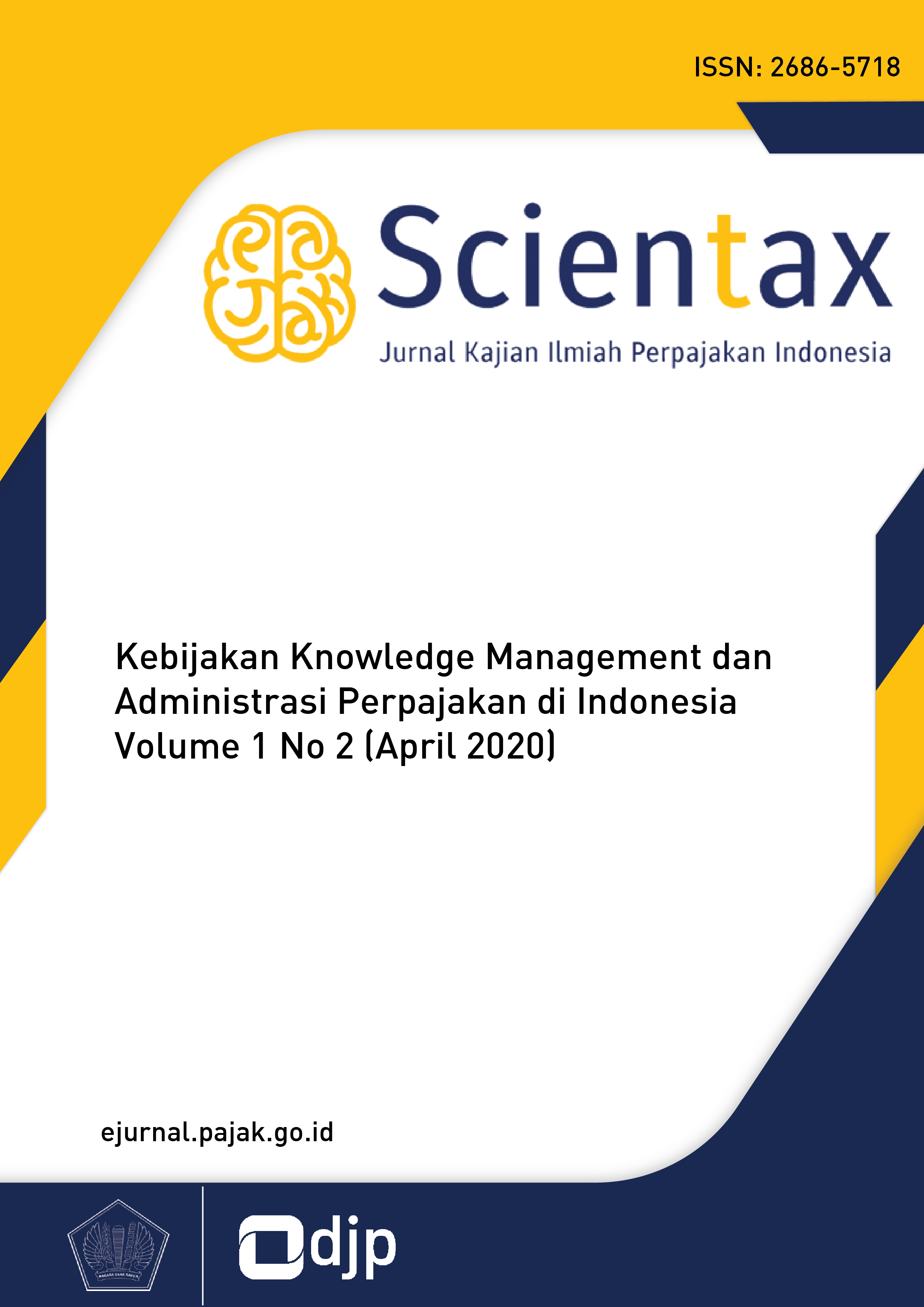 How to Cite
Respati, N. D. (2020). THE ADOPTION OF E-GOVERNMENT IN THE TAX ADMINISTRATION: A SCOPING REVIEW. Scientax, 1(2), 109-130. https://doi.org/10.52869/st.v1i2.38
Copyright (c) 2020 Scientax
This work is licensed under a Creative Commons Attribution-NonCommercial-ShareAlike 4.0 International License.