KAJIAN AKADEMIS PERATURAN PELAKSANAAN CARA LAIN UNTUK MENGHITUNG PEREDARAN BRUTO YANG MENDUKUNG KEPATUHAN SUKARELA
Furqon Nurhandono

DJP

Darius Hariono Garda Perkasa

Tri Kurniawan Yulianto
Keywords:
metode tidak langsung, peraturan perpajakan, kepatuhan sukarela, cara lain
Abstract
Regulation of The Minister of Finance of The Republic of Indonesia Number 15/PMK.03/2018 on   Other Basis to Calculate Gross Income regulates determination of tax payable through indirect evidence other than evidence from bookkeeping. This regulation potentially become double edge sword for the tax authority's mission to collect revenues based on voluntary tax compliance. Based on the Slippery Slope Framework, if the tax authorities maintain the 'cops and robbers'' attitude, voluntary compliance tends to decrease (Kirchler, Hoelzl, and Wahl, 2008). Conversely, voluntary compliance will increase if the tax authorities are perceived to be more efficient in detecting tax fraud and bringing justice. This study presents a literature review as a consideration basis for developing regulatory policies for subordinate regulations of PMK 15/2018 that supports voluntary compliance. Based on the literature review, subordinate regulations of PMK 15/2018 that support voluntary compliance must be reliable, objective, and punishable under legitimate power.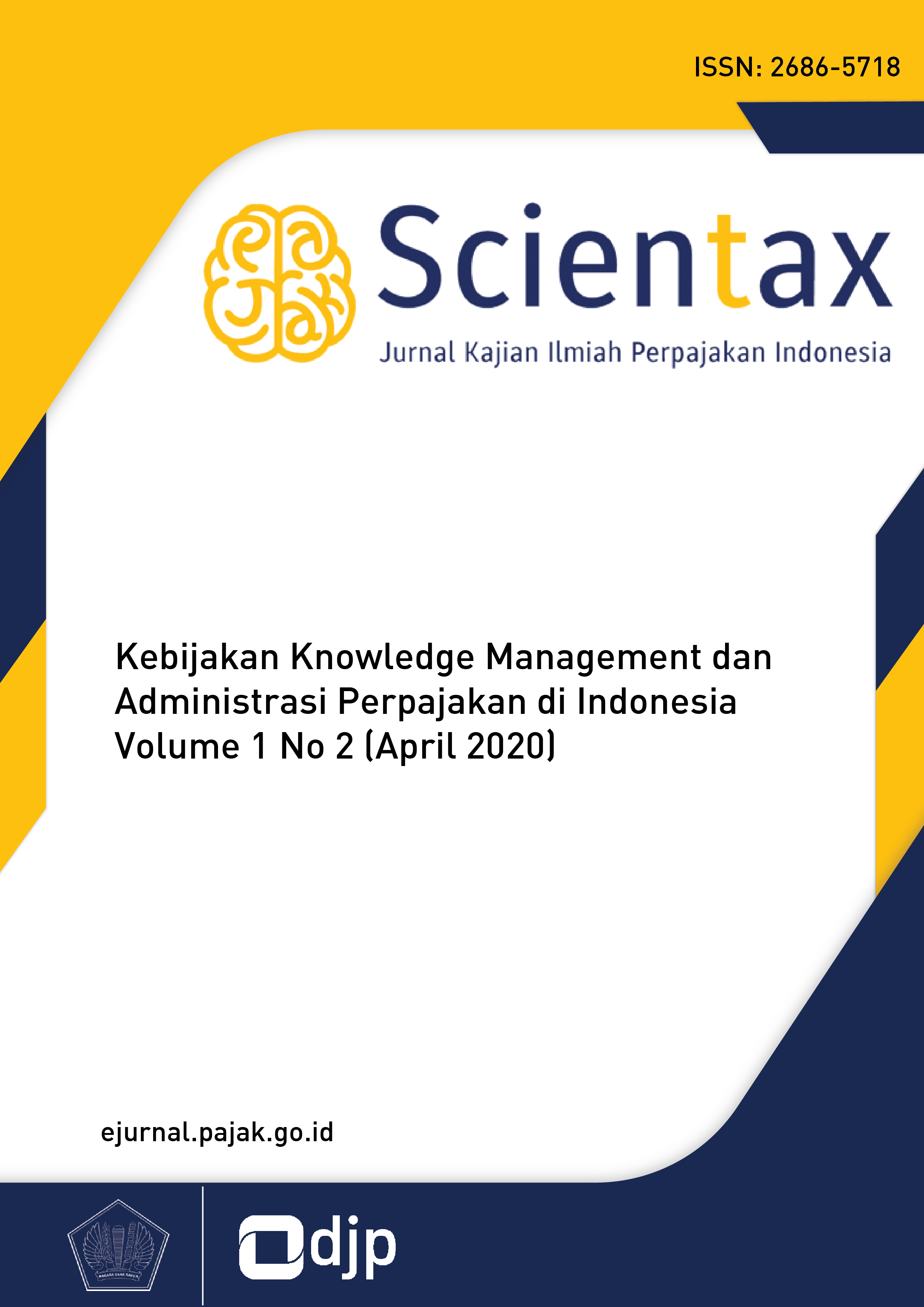 How to Cite
Nurhandono, F., Perkasa, D. H. G., & Yulianto, T. K. (2020). KAJIAN AKADEMIS PERATURAN PELAKSANAAN CARA LAIN UNTUK MENGHITUNG PEREDARAN BRUTO YANG MENDUKUNG KEPATUHAN SUKARELA . Scientax, 1(2), 149-166. https://doi.org/10.52869/st.v1i2.32
Copyright (c) 2020 Scientax
This work is licensed under a Creative Commons Attribution-NonCommercial-ShareAlike 4.0 International License.