ULTIMUM REMEDIUM DALAM HUKUM PIDANA PAJAK: TEORI DAN PRAKTIK
Keywords:
tax crime, criminal tax law, ultimum remedium, primum remedium, fundamental legal principles
Abstract
The objective of Legal study is for answering questions on what and how it should be as das sollen. However,  legal studies are not solely researching validity of rules as das sollen, but also researching whether a legal rule be in force or not, about what should be done or should tend to be prescriptive (Sudikno Mertokusumo, 2011). Therefore, legal research aside from having dogmatic and systematic characters, also should also apprehend asymmetry  between das sollen and das sein. This paper essay is researching criminal tax law in General Provision and Procedures Law (UU KUP), as spring of ius positum and it's legitimate systematic within tax law as well as other law within Indonesia's legal system. From juridical normative research, there are few conclusions about ambiguity and asymmetry between fundamental principles and their pronounced legal regulations. As well about the absence of a strict (criminal) procedures law as rule of adjudication for application of criminal tax law, provoke ambiguity in operation and how to manifest criminal tax law as das sein. From this vantage point, this research stretched in accordance with criminal tax law effectiveness as a tool to obtain society welfare and harborage.
Downloads
Download data is not yet available.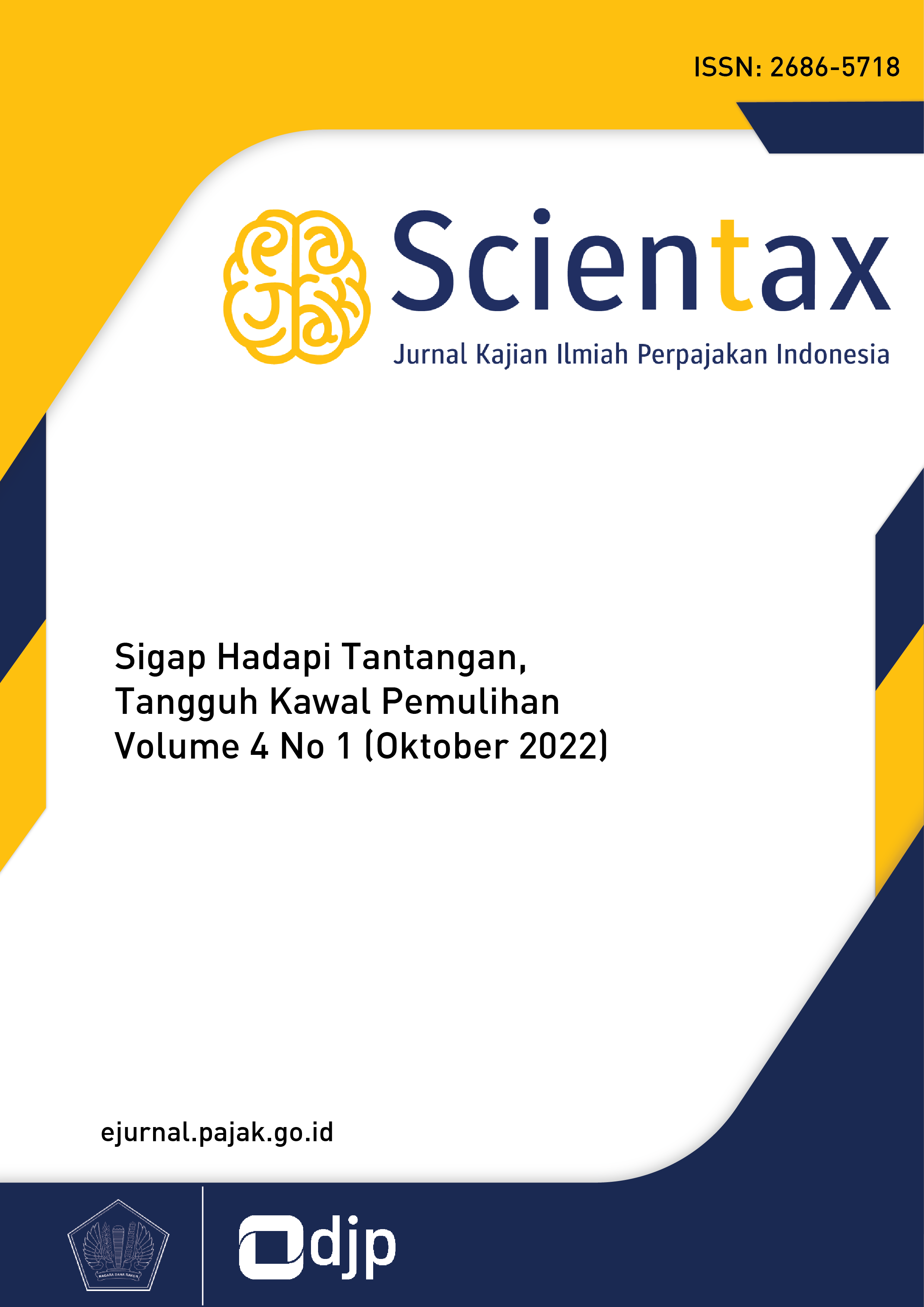 Downloads
Published
2022-10-31 — Updated on 2022-12-12
How to Cite
Yumanto, B., & Hutauruk, P. A. S. (2022). ULTIMUM REMEDIUM DALAM HUKUM PIDANA PAJAK: TEORI DAN PRAKTIK. Scientax: Jurnal Kajian Ilmiah Perpajakan Indonesia, 4(1), 107–149. https://doi.org/10.52869/st.v4i1.259 (Original work published October 31, 2022)
License
Copyright (c) 2022 Bina Yumanto, Paruhum Aurora Sotarduga Hutauruk
This work is licensed under a Creative Commons Attribution-NonCommercial-ShareAlike 4.0 International License.